NCD Insight 3 - Changing Role of Executives: from Awareness to Active Involvement November 10, 2020 9:00 (London)/18:00 (Tokyo)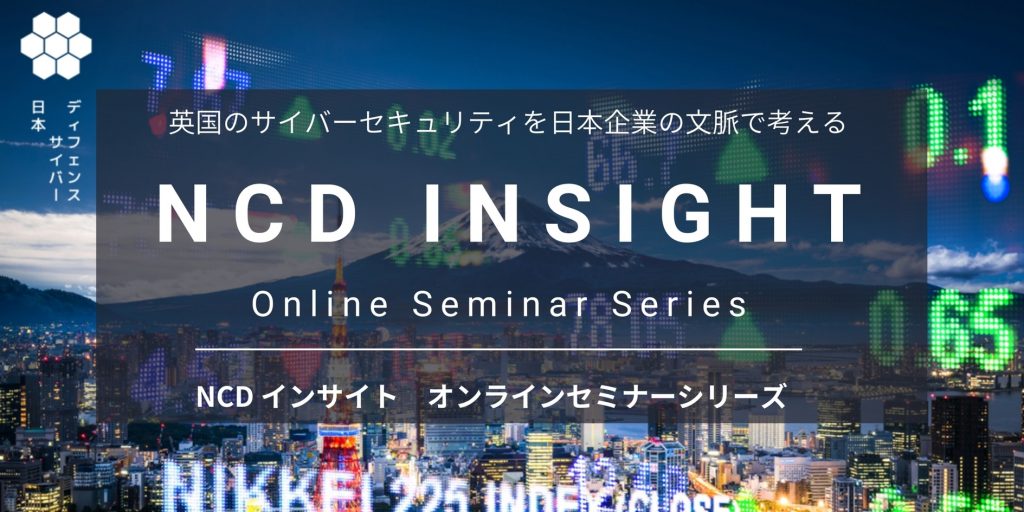 We are holding NCD Insight online seminar series, "UK Cyber Security in the Context of Japanese Businesses," where we provide the latest security trends that the companies operating from multiple locations across the globe need to know now. It is a series of total 6 seminars held once a month and this is the third one under a theme of "Changing Role of Executives: from Awareness to Active Involvement."
Cyber security is now in transition: Executives were once required to recognize cyber security as a business management issue, but now their active involvement and delivering a clear message on how to deal with it are called for. They need to correctly understand business benefits of digitalization and security risks associated with it and take the lead in declaring companies' intentions to internal and external stakeholders and make every effort to voluntarily disclose recognized risks. Senior executives are expected to take accountability for security failure when an incident occurs. In this seminar, we are going to discuss how their involvement should be in peacetime and emergency from both viewpoints of Japan and the U.K.
In the first half, Dr.Jamie Saunders who served as Cyber Crime Unit Director at the U.K.'s National Crime Agency and led numerous companies in the UK for cyber governance will explain accountability in the time of cyber incident needed for the businesses in the U.K., cyber security governance for overseas operations and how to urge top management (the need for such governance, to get involved).
In the second half, Mr. Toshinori Kajiura, JCIC President, will explain necessary change in awareness of security management and visualization of risks based on domestic trends. Mr. Toshio Nawa, an Incident Response Specialist, will share his ample insights gained through attending many briefings for executive meetings and explain comprehensive management by the executives necessary to minimize unexpected cyber risks.
The 3

rd

 Seminar Agenda (tentative)
9:00* /- Opening
9:05 – Lecture on "Managing cyber risk: how can branch leadership ensure that UK legal and regulatory requirements are being met?" by Dr. Jamie Saunders**
9:25 – Lecture on "Management involvement and accountability" – Toshinori Kajiura
9:35 – "Security management issues for Japanese companies" by Toshinori Kajiura & Mr. Toshio Nawa
10:00 – Closing
Speakers
Lecturers
Dr. Jamie Saunders/Nihon Cyber Defence
Toshinori Kajiura / President, Japan Cybersecurity Innovation Committee
Toshio Nawa/Nihon Cyber Defence
Moderator
Ms. Tomomi Aoyama/Nihon Cyber Defence, Industrial Cyber Security centre of Excellence
Concept of the Seminar Series
Affected by COVID-19, we become more and more reliant on digital infrastructure and so cyber threat is on the rise too. In the supply chain where people, goods and things are intertwined complexly with each other, security breach can result in a huge impact on the economy. For a safer and more resilient society, cyber security is vital.
Global branch security
Cyberattacks often exploit the weakest link in the organization. Recently, many cases are reported where overseas locations far away from the HQ were targeted and used as the entry points for cyberattacks. It is difficult to thoroughly protect remote locations and it is imperative to close the gap among the functionalities, capabilities locally available and the security requirements. The seminar series will identify the challenges for the HQ and local locations and the actions that need to be taken.
UK cyber trends
Cyber security is not an issue only in Japan.
Currently what is happening overseas? Is there any different approach? How does the security in Japan look like from outside of Japan? In the first lecture, a cyber security professional in the U.K. will speak about security from his country's perspective in line with the theme. Also, is there any lesson that Japanese businesses can learn from what is happening in the U.K.? How is it leveraged? In the second lecture, an expert in Japan will explain the situation in the U.K in Japanese language and contextualize it comparing with the current situation in Japan.
Recommended Attendees
UK based Organisations
The U.K. has developed a unique cyber security deeply rooted in intelligence. This seminar helps you understand the approaches to cyber security unique to the U.K, specific actions to be taken now at your locations and the information and tools that can be used and available in the U.K.
Cybersecurity Practitioners
This seminar will discuss the difference in approaches between the U.K. and Japan from a variety of aspects including policies, technologies and culture. It helps you understand the strength and challenges unique to Japan and promote comprehensive security measures.
Throughout the seminar, you can ask the lecturers any question using chat capability.
Please join us if you want to know the latest threat information or if you want to start implementing security measures for overseas operations.
Overview
Time and date: 9:00-10:00 in London/18:00-19:00 in Tokyo on November 10, 2020
Format: Online
Organizer: Nihon Cyber Defence Co., Ltd.
Sponsors: Terilogy Worx Corporation, Japanese Chamber of Commerce in the U.K.
Cost to attend: Free (Advanced registration needed)
How to apply
To register, click on the register button  or click here.
Finding any difficulties to register? please contact us at "events@nihoncyberdefence.co.jp" with the below mentioned details:
Name of the participant (First name / Last name)

Name of the organisation

Job title

E-mail address
An email with further event details will be sent on the registered email address