Past Event - NCD Insight 2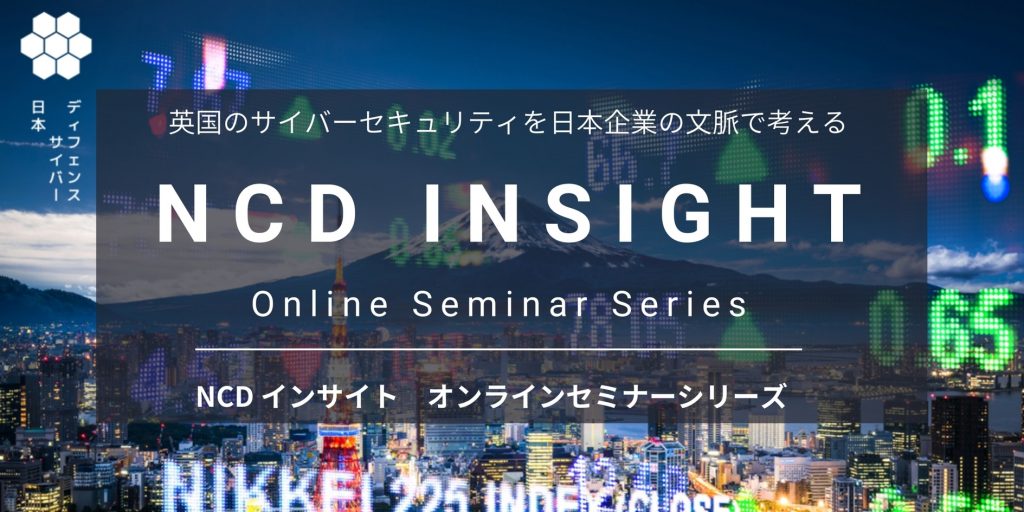 NCD Insight 2-Increasing Ransomware in COVID: Responding to Double Extortion October 8th, 9:00 (London) / 17:00 (Tokyo) Online
** Main language of this event is Japanese**
With the concept of  "Thinking Cybersecurity in the UK in the Context of Japanese Organisations," the NCD Insight online seminar series delivers the latest security trends and knowledge for global organisations. The seminar will hold monthly for six months. 
The topic of the second seminar is "Increasing Ransomware in COVID: Responding to Double Extortion". Cyber actors break into the corporate network, steal sensitive information, and 1) encrypt files, demand ransoms (first extortion),  2) threaten to publish stolen files if they do not accept payments (second extortion). As a route of intrusion, multilingual overseas bases are targeted.  
In this seminar John Noble CBE, the former NCSC incident response director, will share lessons learned from ransomware incidents in the UK. He will talk about his experience of leading numerous serious cyber incidents at the national level both at the NCSC and from his role as a non-executive director at NHS Digital where he oversees Cyber Security. John will also explain what good organisations do when they are hit by a cyber incident. In the second half, Toshio Nawa, an incident response specialist who also took the stage in the last seminar, will focus on double extortion tactics to explain the changes of the cyber threats compared to the past,  and the threat trends targeting Japanese organisations. Toshio will explain what action should be taken at oversea bases and share his tips on responding to double extortions.
During our seminar, you can ask questions to speakers via chat anytime.
Agenda
9:00* BST (17:00 JST) – Opening

9:05 (17:05) – "Responding to Ransomware Attacks: Case Studies in the UK" – John Noble **

9:20 (17:20) – Q&A with John Noble**

9:30 (17:30) – "How to Defend Against Double Extortion Ransomware Attacks" – Toshio Nawa

9:45 (17:45) – Q&A with Toshio Nawa

10:00 (18:00) – Closing
*Agenda in UK time
**Only the presentation by John Noble will be in English
Speakers
John Noble CBE / NHS Digital  Non-Executive Director, Nihon Cyber Defence

Toshio Nawa, Nihon Cyber Defence
Moderator: Tomomi Aoyama (Nihon Cyber Defence / IPA Industrial Cyber Security Centre of Excellence)
Who should attend
UK based Japanese organisations
UK has developed strong cyber capability based on the unique intelligence community. In this seminar series, you will understand the British approach on cybersecurity issues, what action should be taken in the organisation, and how to gain the tools and information available in the UK.
Cybersecurity personnel in Japan
This seminar will examine the difference between Japanese and UK cybersecurity from policy, technical, and cultural perspectives. You will gain a deeper knowledge of Japan's strength, challenges and hints to build a resilient cyber capability in your organisation.
Overview
Date: October 8, 2020

Time: 9:00 – 10:00 (London) / 17:00 – 18:00 (Tokyo)

Sponsored by: Nihon Cyber Defence Co., Ltd.

Supported by: Terilogy Worx Corporation, Japanese Chamber of Commerce and Industry in the UK (JCCI UK)

Format: Held online

Cost: Free (Pre-registration required)

More information: 

https://nihoncyberdefence.co.jp/upcoming-events

/
**Important – Registration may be cancelled for applications from personal email addresses such as gmail** 
How to apply
To register, click on the register button  or click here.
Finding any difficulties to register? please contact us at "events@nihoncyberdefence.co.jp" with the below mentioned details:
Name of the participant (First name / Last name)

Name of the organisation

Job title

E-mail address
An email with further event details will be sent on the registered email address