Past Event - NCD Insight 1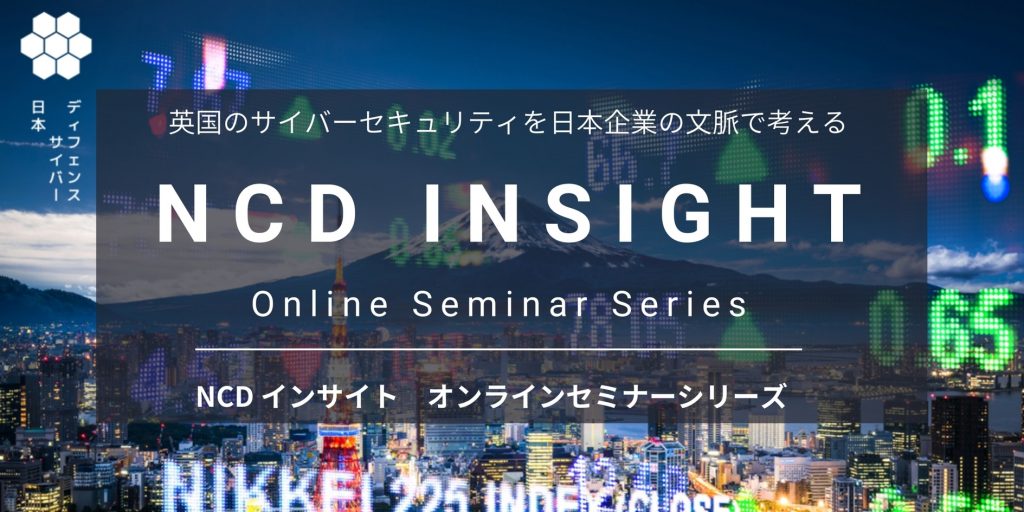 NCD Insight 1 - COVID cyber risks and overseas branch security
September 8th, 9AM-10AM (London) / 5PM-6PM (Tokyo)
The First Step of Cyber Awareness…
demands consistent and regular communication.
We need to take efforts in knowing what techniques the hackers may follow during this COVID pandemic and what can we do to overcome these…
NCD Insight webinar series is a monthly seminar based on the concept of "Understanding British cybersecurity in the context of Japanese companies" and delivering the latest security trends needed for companies active in global bases together with Japanese and English experts.
Who should attend:
UK based Japanese organisations – UK has developed strong cyber capability based on the unique intelligence community. In this seminar series you will understand the British approach on cybersecurity issues, what action should be taken in the organisation, and how to gain the tools and information available in the UK.
Cybersecurity personnel in Japan – This seminar will examine the difference of Japanese and UK cybersecurity from policy, technical, and cultural perspectives. You will gain deeper knowledge of Japan's strength, challenges and hints to build a stronger cyber capability in your organisation.
We are here to hear from you too. During our seminar, you can ask questions to speakers via chat anytime.
Speakers
UK Experts:
Dougie Grant 

(National Cyber Security Centre, NCSC) – Check Bio
JP Experts:
Hiroaki Kamoda 

(Cyber Security Division, Ministry of Economy, Trade and Industry) – Check Bio

Hiroshi Sasaki 

(IPA Industrial Cyber Security Centre of Excellence, ICSCoE/McAfee Corporation) – Check Bio

Toshio Nawa 

(Nihon Cyber Defence / Cyber Defense Institute) – Check Bio
Moderator: Tomomi Aoyama (Nihon Cyber Defence / IPA Industrial Cyber Security Centre of Excellence)
Event Structure
Toshio Nawa 

to explain cyber risks exposed to overseas bases

Dougie Grant, 

who is involved in incident response coordination at NCSC (National Cyber Security Centre), will give a lecture on the impact of COVID-19 on cyberspace and the latest threat trends seen from UK's perspective

Round table:




What is happening for Japanese companies in the UK ? What is happening in Japan? At the later half of the round table, domestic experts will explain the British and international circumstances in Japanese and interpret them in light of the current situation in Japan.


Speakers at the round table would be 

Hiroaki Kamoda, Hiroshi Sasaki 

and 

Toshio Nawa
**Note – Only Dougie Grant's lecture will be in English**
Event Outline
Date: September 8, 2020

Time:17:00-18:00 (Tokyo) / 9:00-10:00 (London)

Format: Held online

Sponsor: Nihon Cyber Defence Co., Ltd.

Supporter: Terilogy Worx Corporation / Japanese Chamber of Commerce and Industry in the U.K (JCCI UK)

Cost: Free (Pre-registration required)
**Important – Registration may be cancelled for applications from personal email addresses such as gmail**
Finding any difficulties to register?? WE WILL DO IT FOR YOU!



Please contact us at "events@nihoncyberdefence.co.jp" with the below mentioned details:
Keep the subject line as "Manual registration for "

First name and Family name

Email address with which you want to register (preferably work email)

Organisation name

Job title
An email with further event details will be sent on the registered email address