IIJ Europe - Nihon Cyber Defence Joint Seminar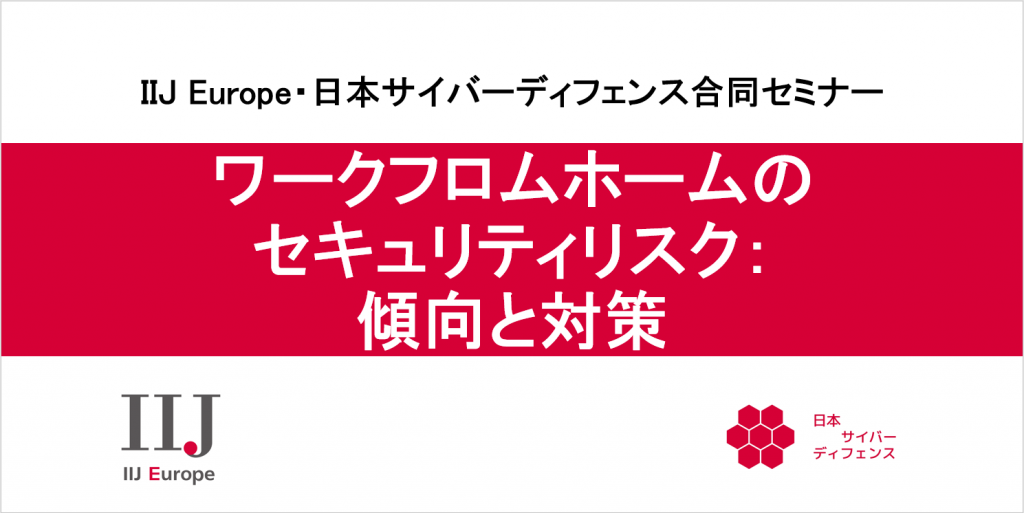 Work from Home environment's security risk trends and countermeasures February 25th, 10:00 – 11:00 (GMT) / 19:00 – 20:00 (JST) - Online
In many companies, it was unexpected that most employees would move to work from home all at once.  For this reason, the work from home environment was prepared in a rush, but now that it has be extended for a long period of time and become a new normal.  Under this situation, it is important to understand and visualize the security status of the work from home environment.
In this joint seminar hosted by IIJ Europe and Nihon Cyber Defence, we are looking back on the security risk trends of 2020 with British cyber security experts, and then, a consultant who have conducted many cyber security assessments of work from home environment will discuss the unexpected issues that have come to light through the assessment.
Agenda
*10:00 / 19:00  – **Opening remarks / Cartan McLaughlin (NCD)
*10:10 / 19:10  – **UK cyber security trends in 2020 / John Noble CBE (NCD)
*10:35 / 19:35  – The most important points for work from home security / Yasuyuki Kaga (IIJ)
*11:00 / 20:00  – Closing
*Shown in GMT/JST
**Lecture is in English
Speakers
John Noble CBE/ Non-executive Director, Nihon Cyber Defence
Yasuyuki Kaga / Advanced Security Division Security Business Department, Internet Initiative Japan Inc.
Overview
Time and date: 10:00-11:00 in London/19:00-20:00 in Tokyo on February 25th, 2021

Format: Online

Organizers: Nihon Cyber Defence Co., Ltd., IIJ Europe Limited

Sponsors: Japanese Chamber of Commerce in the U.K.

Cost to attend: Free (Advanced registration needed)
How to apply
To register, click on the register button or click here.
Finding any difficulties to register? send us following information to events@nihoncyberdefence.co.jp.
Name

Company Name

Job Title

Email Address

Questions to speakers (if any)
An email with further event details will be sent on the registered email address.